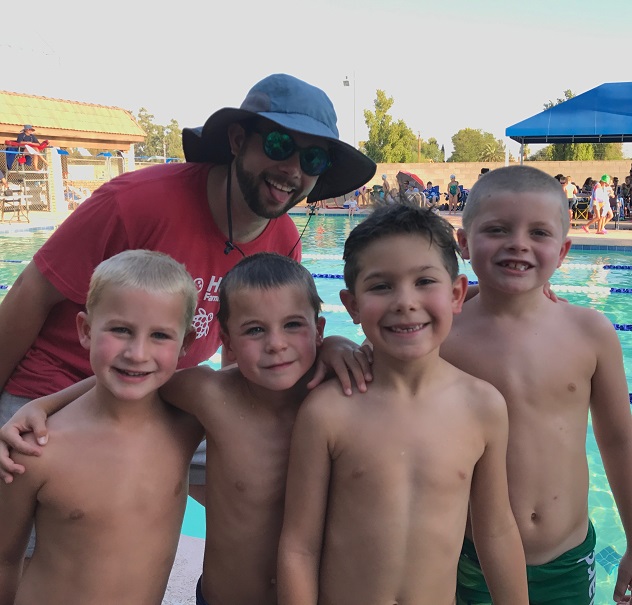 Swimming is a fun-filled activity for kids and brings families together! Splashing around in the pool is always fun, no matter your age. But unfortunate accidents happen; according to the American Red Cross, each year around 200 children drown in backyard pools. Pool safety is a priority to prevent tragedy and to ensure families and friends have fun while swimming. And that includes when children swim over at a friend's house.
Swimming Security and Prevention
To prevent children, pets, or perhaps even older adults, from wandering into your pool it's important to install at least a 4-foot high fence with a self-closing or self-latching gate. Consider a pool cover or installing a pool alarm. Whether you are having children over to swim, or they're going to a friend's house, parents are encouraged to set proper expectations and rules.
Swimming Safety Precautions and Rules
Parents: do you remember hearing the sound of the whistle blowing or "walk, don't run?" Pool swimming safety rules haven't really changed much... and neither have the whistles! Here a few oldies, but goodies:
Walk, Don't Run: When your kids are playing in the pool, you have assumed the role of lifeguard! Express caution to kids and let them know it's easy to slip and fall on wet surfaces.

Having Fun in the Sun: Protect your skin from too much sun! Lather on the sunscreen, take lots of breaks and remember to drink plenty of water!

Swim with a Buddy: Never swim alone, always buddy up. This is a good skill to practice, even for adults.

Always Ask Permission: Let your child know if they are swimming at a friend's house they need to ask permission before jumping in and to always let a grown up know.

No Diving: Whether your child is an experienced swimmer or not, it's best to leave diving for when in deeper waters. Diving in shallow water can result in debilitating accidents to anyone at any age.
Swim Safety Skills
Let the swimming lessons begin as early as possible! Positive experiences in the pool will help establish a comfort level with the water. Here are two swim safety skills that you can practice with your child that make swimming fun!
Blowing Bubbles: Having your head dunked under the water is scary and can evoke panicked responses. Blowing bubbles teaches children how to let go of air under water. This is also a great trick if your child expresses feeling scared when playing with friends in the pool.

Treading Water: Treading water keeps your head and nose above the surface so you can breathe! Relax, keep your shoulders above the water, and flutter kick.
Swim Noodles and Toys
When learning how to swim, pool toys engage children and even help teach swimming skills, such as floating and kicking. Swim noodles are a summer favorite, though if misused can cause issues. Establishing and enforcing at-home pool rules may help to prevent accidents. Think of pool noodles like an amusement park ride, only one person at a time! Also, pool noodles shouldn't be used as waterspouts, kids may accidentally inhale water and choke.
First Aid and CPR
Swimming is an all ages fun activity, though it's important to practice swimming safely and enforce pool rules. Parents or supervising adults should always keep a phone nearby for emergency calls. Teach your child about what signs to look for if someone needs help and how to call 9-1-1. It's a good rule of thumb to have some safety supplies on hand, such as life jackets and a first aid kit. The best thing any parent or caregiver can do, enroll in a local CPR training course to learn how to better respond to emergencies.
At Hubbard we are all about the fun, and we want our students and their families to have a safe and wonderful time when they're swimming. When it comes to pool safety, there's no substitution for supervision. Putting all of the above into practice and making good pool safety habits will ensure a happy experience for everyone. If you'd like more information about our swimming lessons, contact us today!