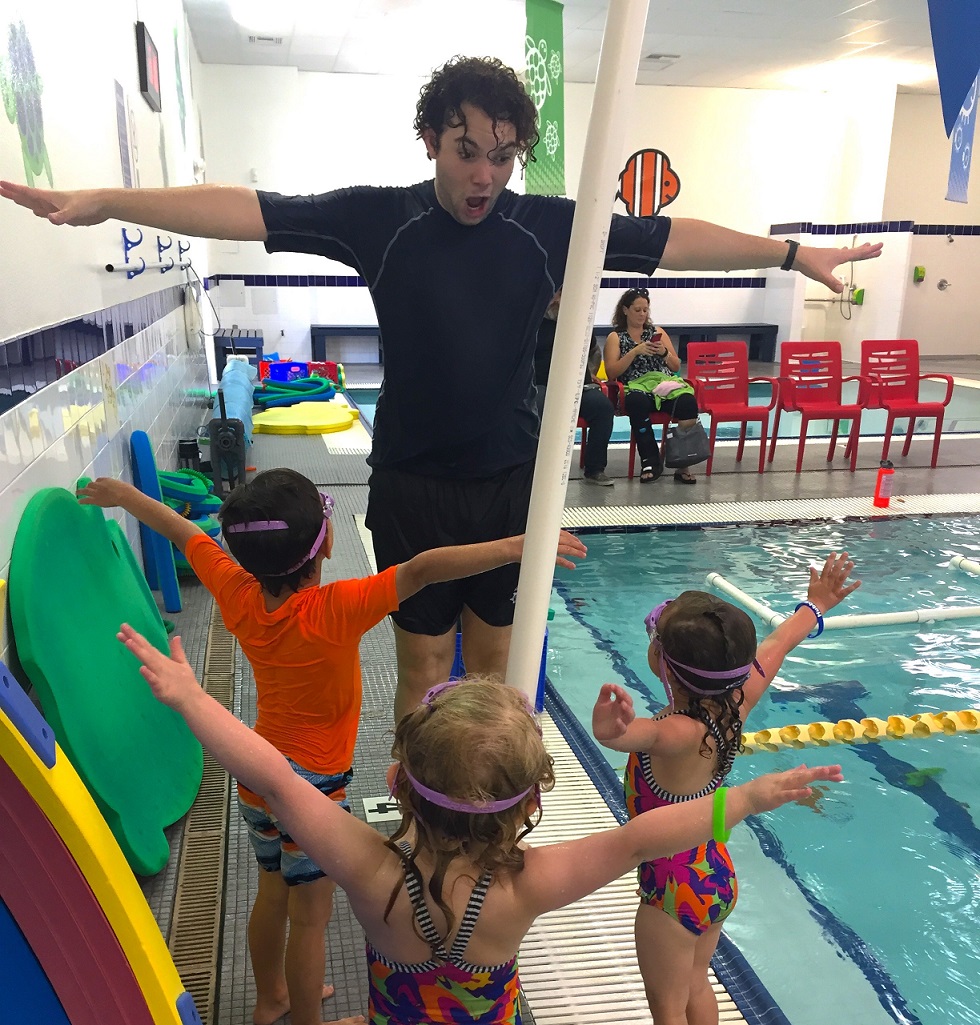 Here at Hubbard Family Swim School, we always have swim safety on the mind. We constantly look for more ways to get families and children aware and involved with water safety ? and to have fun while doing it!

The truth is, the majority of dangerous accidents for children from the ages of 1 and 4 occur near or in a body of water. And the risk is almost as high for older children as well. However swim lessons, proper pool fencing, and the constant awareness and practice of swim safety both in and out of the pool can eliminate virtually all of these risks.

Learning and practicing swim safety doesn?t happen exclusively when you and your child are in the water. There are TONS of things you can do outside of the pool to make sure your children are always thinking about how to swim safe. These swimming safety tips are great ways you and your little goldfish can practice water safety outside of the pool.

6 Months ? 1 Year:
If you own a pool, it should be fenced in on all sides and have a self-closing, self-latching gate that's out of your child's reach. The fence should be at least four feet high and should not have any footholds.
Baby-proof your pool itself with baby fences designed specifically to keep your little one out of the water.
Familiarize your baby with water and water safety near all bodies of water, not just the pool; this includes fountains, bathtubs and even your dog?s water bowl. Introducing water to them is important to build comfort, and safety rules can be enforced from the get-go.
2 ? 3 Years:
Remember to take all toys out of the pool after your child gets out. Because he enjoys them during play and learning time in the water, he may be tempted to reach for them when he?s back on dry land.
Reinforce safety rules as he or she is learning to speak. For example, when asked, ?Do we go near the pool or lake without Mommy or Daddy?? his or her automatic response should be ?No!? This simple rule can be fortified at a young age and will become the foundation of their swim safety.
Familiarize him or her with the idea of wearing a life jacket around water when they aren?t there to swim, specifically on a boat or near the lake.
4 ? 6 Years:
Continue to reinforce the fact that NO ONE is allowed near the pool without supervision. Make it an automatic household rule.
Children at this age can be included in the safety check process. If they see a pool gate left open or unlocked they should run to tell an adult.
When they DO get to the pool, make it a rule that they are not allowed in the water until you go in yourself. Running and jumping into the water is tempting ? but it?s also dangerous without an adult supervisor in the water yet.
Get them excited about the idea of being in or around the water; go check out new goggles, swim trunks or bathing suits. Talk about what they learned in class outside of class, even when you?re not at the pool.
For example, have your child lay on his or her stomach and practice lifting legs without bending the knee, recreating leg kicks in the water and getting them used to the feeling.
7-10 Years:
Continue to reinforce the rule that no one is allowed near the pool without supervision, but give him or her more leniencies in the water. Stay nearby at all times, but trust their natural instincts as they learn their own skills in the pool.
Be open with them about ways to avoid common water safety mistakes. Don?t scare them with stories, but instead offer solutions. Encourage conversation. Talk about common water emergencies and what they think they would do in a particular situation.
From there, applaud right answers, and gently correct potentially unsafe answers. Remember to make it a back-and-forth conversation, encouraging them to come up with their own answers instead of telling them what to do. In an emergency, they will need to think for themselves.
Rules for all ages:
Keep your pool fenced in, and maintain the fence. Remember, even if your children are experienced swimmers, you may have neighbors with children or pets that are not.
Keep lifesaving devices nearby such as a pole and hook or a flotation device at all times and within easy reach.
Keep a phone near the pool at all times as well, in case of emergency. Some families and many pools choose to install a landline near the pool for failsafe phone use if needed.
There are many apps you can download onto your smartphone to help keep safe at the pool or lake. For example, you can track lightning strikes nearby to see if it?s safe to swim. But REMEMBER, don?t be so distracted with your phone that you aren?t paying attention to what?s going on!
Keep an open, constant conversation with your children about swim safety throughout the year, even when they aren't at the pool, such as during a car ride or at dinner. Constant reminders and conversation will ingrain water safety into your children?s minds and habits.
With these tips, you can always be looking out for water safety, even when you?re not in the water! Happy swimming!