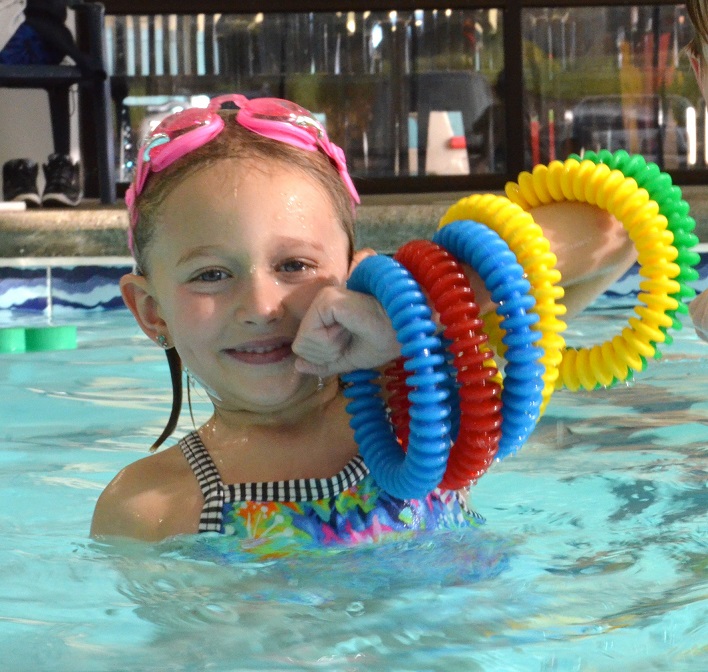 Everything is more fun with cool gadgets involved, and learning to swim is no exception. Encourage your child to embrace swimming lessons with these fun, practical, and safety-tested gifts for swimmers:
Back Floats - Swim floats are never a substitute for adult supervision or learning to swim, but there are plenty of fun pool TOYS that float. Back floats can add to the fun and play time in the pool while allowing your child to move more freely in the water.
Diving Toy Play Sticks - Diving toys act as a fun game for more experienced swimmers, these toy sticks can be used to practice diving and underwater swimming. They provide a fun challenge as the sticks sink to the bottom of the pool and stand straight up, making them easy to retrieve.
Donut Swim Goggles - These fun goggles will make any hesitant swimmer excited about swim lessons! Decorated with sprinkled donuts, these swim goggles are not only adorable and unique, they are equipped with UV protection, durable, and safe.
Animal Style Swim Floats - Your little swimmer will love fun and quirky swim floats that look awesome too. Imaginations will run wild coming up with animal inspired water games to enjoy playing with friends .
Swim Thru Rings - Encourage underwater swimming with these rings for the pool. Your child will gain confidence in their swimming abilities creating an "obstacle course" to swim through.
Toddler Water Toys
Bath time is your little one's first introduction to wading in water and can make an impression when it comes to learning to swim in the future. Here are a few toddler swimming gadgets that will make bath time more fun:
Faucet Water Deflectors - These gadgets fit over the faucet to create a fun waterfall that projects water away from the back of the tub. It even has a bubble bath/shampoo dispenser and it will help ease the fears of even the most water-wary toddler.
Bath Set: Foam Letters & Books - Your little reader will love playing with these foam letters and numbers, along with waterproof books. Practice spelling out their name with the letters or add a bath time story to your nightly routine.
Bathtub Crayons - Every toddler loves to doodle, and these bath crayons add exciting color to bath time. They're safe and easy to clean.
Floating Duck Thermometer - This gadget is a fun spin on the classic duck bath toy. It acts as a digital thermometer to make sure your baby's bathwater is safe...and it's cute, too.
Fun swimming gadgets for active swimmers and toddler water toys will help ease your child into the world of swim lessons. Gifts for swimmers in your family are a great way to encourage swim safety, and provide some fun too! Contact us to learn more.