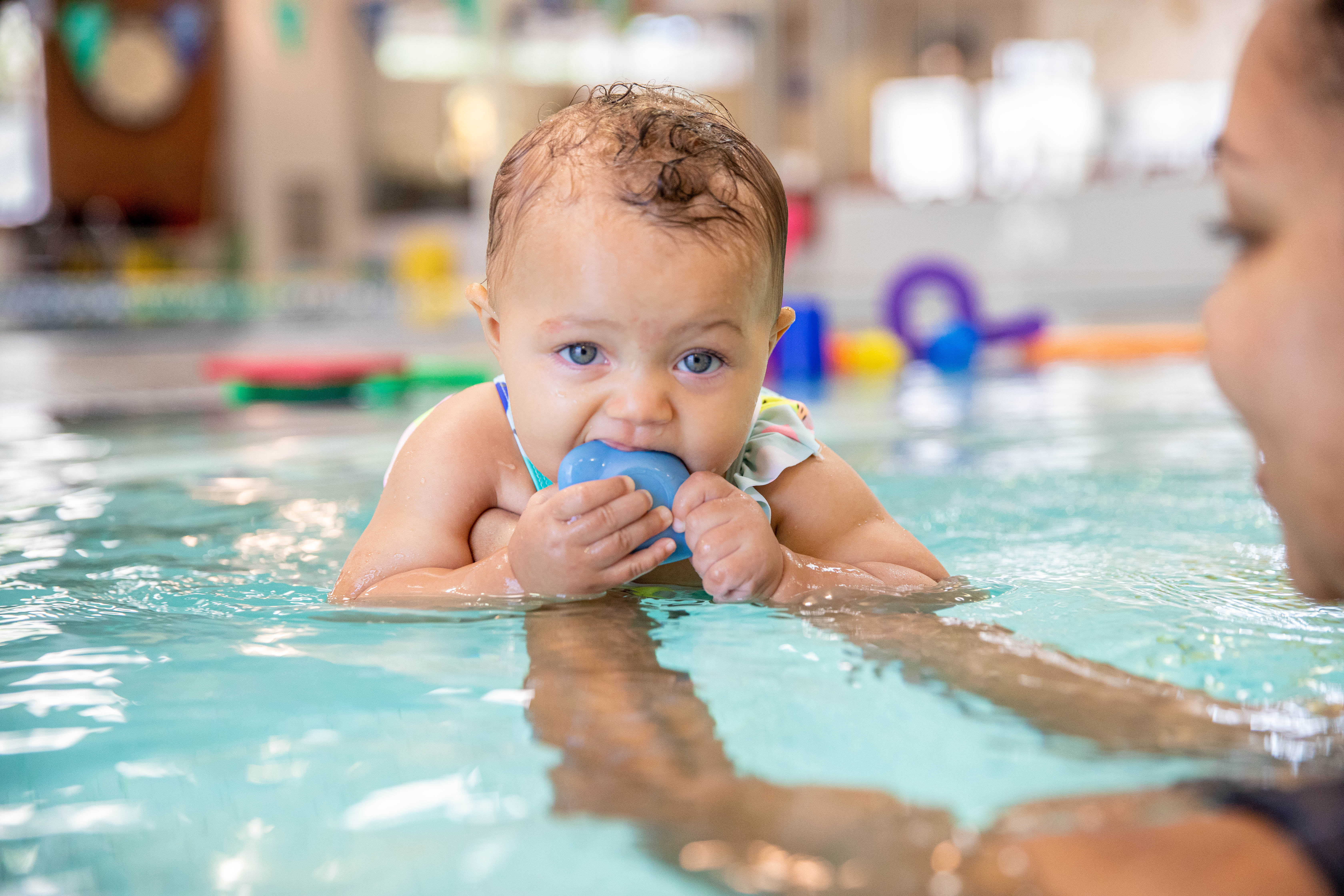 Baby swimming lessons are one of the most important things you can do for your infant, but you probably have a lot of questions if you're just getting started. You might wonder, "how early can a baby learn to swim?" or what the right baby swim school is for your child. First, remember that baby and me swim classes provide a lot of benefits like teaching life-saving skills, improving motor skills, boosting mental development, and giving you and your little one a great bonding opportunity.
Even so, we know mommy and me swim classes might be daunting at first, so we're going to cover some helpful tips for the first time swim parent.
Start Early.
There isn't one perfect age at which a baby should start swimming lessons, but the sooner you can introduce your child to water the better. When babies get exposed to time in the water with you while they're still very young, they end up becoming very comfortable around water and remaining that way for life. This sets the stage for them to be confident swimmers and reduces the odds that they'll have fears attached to being around water unlike non-swimming kids.
Have a Swim Diaper (or Two) Ready.
From birth through three years of age, whether potty trained or not, at Hubbard we require that your child wears a swim diaper in the pool. Make sure to bring one with you to every class, and bring a backup in case the first one gets used before class begins. All of our Hubbard locations have these available for sale, too, so you can always purchase a reusable one from us if you'd like.
Pack the Right Bag.
Being prepared goes a long way in making you and your child feel comfortable at swim class. Bring a bag with a towel and change of clothes for each of you (if you're in the baby and me swim classes), and remember to also bring lotion, water or anything else you might want to have on hand before or after class.
Arrive Early.
Being late is always stressful, and it sets a hectic tone for you and your child in baby swimming lessons. Give yourself extra time for the drive, getting dressed, and using the restroom or changing diapers if needed. This will help you both to ease into class relaxed and in a positive frame of mind.
Set Realistic Expectations.
Our instructors work hard to make all of our classes fun and productive. But keep in mind there may be challenges at certain points. Whether your baby is especially fussy in a class or always yells when it's back float time, baby swimming lessons aren't always a cake walk. Read our tips on how to soothe your baby in swim class, and remind yourself why you're there. Most of all, try to remain calm and have fun. The more relaxed you are, the more relaxed your little one will be.
Keep an Open Mind.
If you're brand new to baby swim school, you might be surprised by how the classes are structured or what the curriculum entails. It might seem like a lot of playtime, and you may think no real swim learning is taking place. But our classes and curriculum were created very intentionally, with milestones and skills in mind- and they work! We encourage new parents to read up on what you can expect in your first class and ask that you keep an open mind about the whole process.
Ask Questions.
Finally, remember that we're here to serve you and your child. We want you to feel comfortable, ask us any questions you have, and to have fun! Our instructors would love to give you tips for what you can work on at home with your child or let you know why we do things a certain way.
So, there you have it! Keep these tips in mind, and your first experience is sure to go swimmingly (pun definitely intended). Contact us to learn more, or to enroll your child in our swim program.