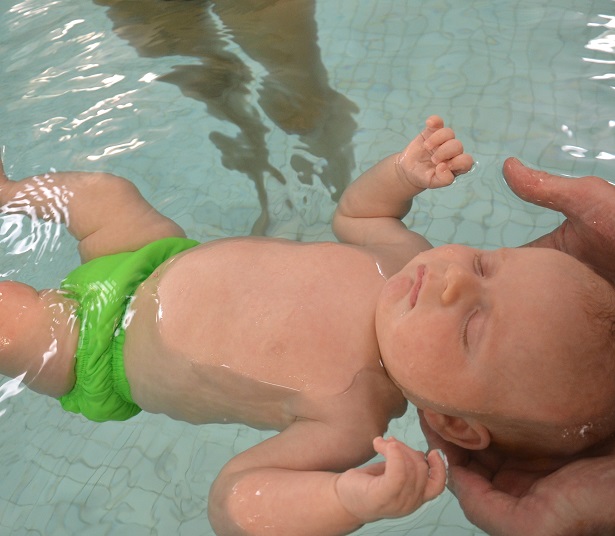 So you've decided to start newborn swimming classes with your little one and are eagerly awaiting the first class. You probably have some questions about what to bring, when to arrive and how your baby will react to the experience (especially if it's their first exposure to a pool). To ease your mind and better prepare you to enter the world of infant swim lessons, here are 5 tips to keep in mind.
Arrive Early
If it's your first time participating in infant swim lessons, plan to arrive about fifteen minutes before class starts. You'll want some extra time to check in with the front desk, use the restroom, change clothes (if you're not already in your swim outfit) and introduce yourself to our helpful staff before class starts. If you have not been to the facility this is a great time to allow us to give you a quick tour and provide answers to any questions you may have. This is also a perfect time to allow children to adjust to a new exciting environment!
A Swim Diaper is a Must
Even if you're a new parent, you're probably already used to the art of diapering. You know to keep diapers and wipes handy at all times, and are likely accustomed to changing your baby in a variety of places. But sometimes parents forget about swim diapers. If you're new to newborn swimming classes, it's a good idea to invest in one or two reusable swim diapers. Many swim schools will have these available for purchase onsite, but you might want to have one with you on your first day so you don't have to take the time to select and purchase one when you're trying to check in and get settled. You'll need to get used to using the swim diaper with your baby, too, as many swim schools require that all babies and toddlers wear them until the age of three (even if they're potty trained before then).
Bring Towels and Dry Clothes
Sometimes, parents get so caught up in thinking about their baby's needs that they overlook their own – and this can apply to mommy and me swim classes too. Since you'll be in the pool with your infant, you'll need to bring two towels – one for baby and one for you. Remember to bring a dry change of clothes for both of you, as well. Many parents arrive to baby swimming lessons dressed in their swimsuit, with some clothes on top of it. This is a great idea; just remember to bring your undergarments with you since you won't be wearing the swimsuit after class and will want to have dry items on under your clothes. The same applies to your infant. Make sure you have a complete, dry outfit with you (and fresh diapers) so you can dry off your little one and get them dressed once class is over.
Other Items to Bring
Mommy and me swim classes are fun and can also be tiring, for both baby and parent. It's likely that your little one may want to have a drink and/or snack (depending on their age) after class. Bring a bottle for baby, a water bottle for you and some healthy snacks for one – or both – of you, if your child is eating solid foods. Something else to remember is that most swim schools offer showers so you can rinse yourself and your infant off after class. Some parents are fine with a simple water rinse, while others prefer to bring their own body wash and give baby a quick scrub under the running water. If you think you'll want to use some sort of soap or wash for your child, remember to bring it with you (and to bring it out to the pool area – you won't want to run back to the locker room after class to grab it, when both of you are soaking wet). You may also want to bring your favorite baby lotion in your bag, as chlorinated water can dry out the skin.
Understand There's a Long-Term Plan
Sometimes, baby swimming lessons can appear to be all about splashing and having fun. While parents enjoy this bonding time with their newborns, some might wonder if this "playtime" is actually helping their baby learn to swim. Remember that different swim schools follow different curriculums, but most will start with basic songs and movements to get baby comfortable in the water. Stick with it for at least a few months, and you will see progress. You may even be surprised at how quickly your tiny infant picks up aquatic skills and advances toward bonafide swimming. If you're at all concerned about the curriculum, ask an instructor before or after class to explain why classes are structured as they are. And then keep an open mind, as most swim schools have very clear reasons for beginning simply and building upon skills over time. If it's your first time going to baby swimming lessons, remember the tips above – and smile. You and your little one are about to begin a wonderful journey together. If you have any questions about enrolling your infant in baby swimming lessons or our other programs, contact us!