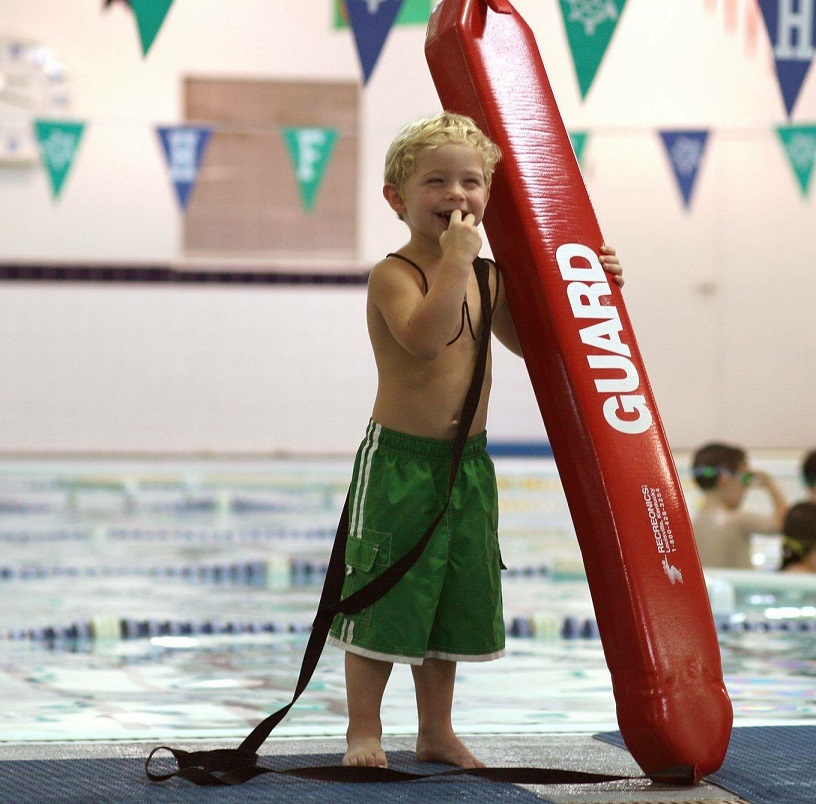 A doctor, an artist, a ballerina, a zoo keeper! Listening to what kids want to be when they grow up is one of the most fun questions to ask a little person. Their imaginations run wild with possibilities and dreams. The joy is especially evident when your little one's eyes light up when they're practicing for the day when they get to 'grow up' and become… their wildest dreams! Maybe you've seen this happy light dancing in their eyes when you take them to swimming lessons at swim school. For those kiddos who love swimming, they can have that joy their whole lives! Check out these 6 cool careers for kids who love swimming and share with your little one.
Olympian or Professional Swimmer
In the swimming world, Michael Phelps is a household name. How can he not be as a world-record-shattering-all-time-most-decorated Olympian in history, standing at 28 medals total? Michael started swimming at age 7 with his sisters and found that he had a love of it and it helped him work out his excess energy and work through his ADHD diagnoses.
With the variety of strokes and different courses available, swimming careers are totally possible for your budding little swimmer. Whether they love solo events, relays, or just freestyle, having a career as a professional swimmer has lots of fun avenues to explore. While the Olympics are the ultimate in swimming competitions, there are many many other levels leading up to that special event. And like all things in life, practice makes perfect!
"You can't put a limit on anything. The more you dream, the farther you get." Michael Phelps.
Marine Biologist
While this isn't necessarily a career where you get to swim often, a love of all things aquatic goes a long way. If your little one has a giant imagination and a love of the secret depths and treasures underneath the water, introduce them to the world of marine biology. A marine biologist gets to study the many types of sea creatures, from plankton to the whales eating the plankton. Studying the smallest of microscopic organisms to the largest mammal in the world (Blue Whale) would never leave you bored if this is your profession.
"The sea, once it casts its spell, holds one in its net of wonder forever." Jacques Cousteau.
Scuba Diver or Diving Instructor
Swimming lessons are fun because of the ability to be a fluid part of the water you're in. Add the ability to breathe underwater, visit depths that most of us only see in photos, and tack on some cool flippers and you've got yourself a cool swimming career in scuba diving or instructing. There are swimming careers for divers at dive shops or on cruises guiding tourists, marine construction, boating industries, photography, marine conservation, and offshore installations, all of which need qualified people in the water.
"The ocean stirs the heart, inspires the imagination and brings eternal joy to the soul." Robert Wyland.
Rescue Swimmer
Swimming careers with the U.S. Coast Guard or the U.S. Navy Aviation Rescue Swimmers are for those who would love to save people while using their well-honed swimming skills. Certainly a daunting career for a parent to imagine their little one involved in, but the chance to save lives, serve others, and swim - well not many careers have those boxes checked. To be a U.S. Coast Guard swimmer is an honor reserved for a small group of elite individuals.
"We do this job because every once in awhile someone is out there without hope, desperately praying for their life, and we get to be the answer." U.S. Coast Guard.
Lifeguard
Even at competitive swimming events there are still lifeguards standing ready at the pool's sidelines. You'll even notice them at the Olympics too! Lifeguards are always needed at community, public, and private pools. Being a lifeguard can offer a teenager or young adult an opportunity to have a fun summer job and maybe even dip a toe into the waters of a burgeoning swimming career.
"Believe in yourself, not only in swimming, but in life itself. You always have to have fun. You have to have an open mind. If you're not enjoying it, don't do it. Life's too short." Debbie Meyer.
Swim School Instructor
What swimming career gives back more than teaching the valuable skill of swimming to other kids? Swimming lessons from swim school instructors would be rewarding for those who have the patience and the desire to work with little ones, teaching the very same skills that got them to their teaching career.
"We love teaching and working with every student that enters our doors. Everyday there is a new success story, a new smile, a frightened child that begins to understand the aquatic world. We work to build smiles, confidence and success." Hubbard Family Swim School.

If you'd like more information on our swimming lessons, swim school, or anything else - contact us today!