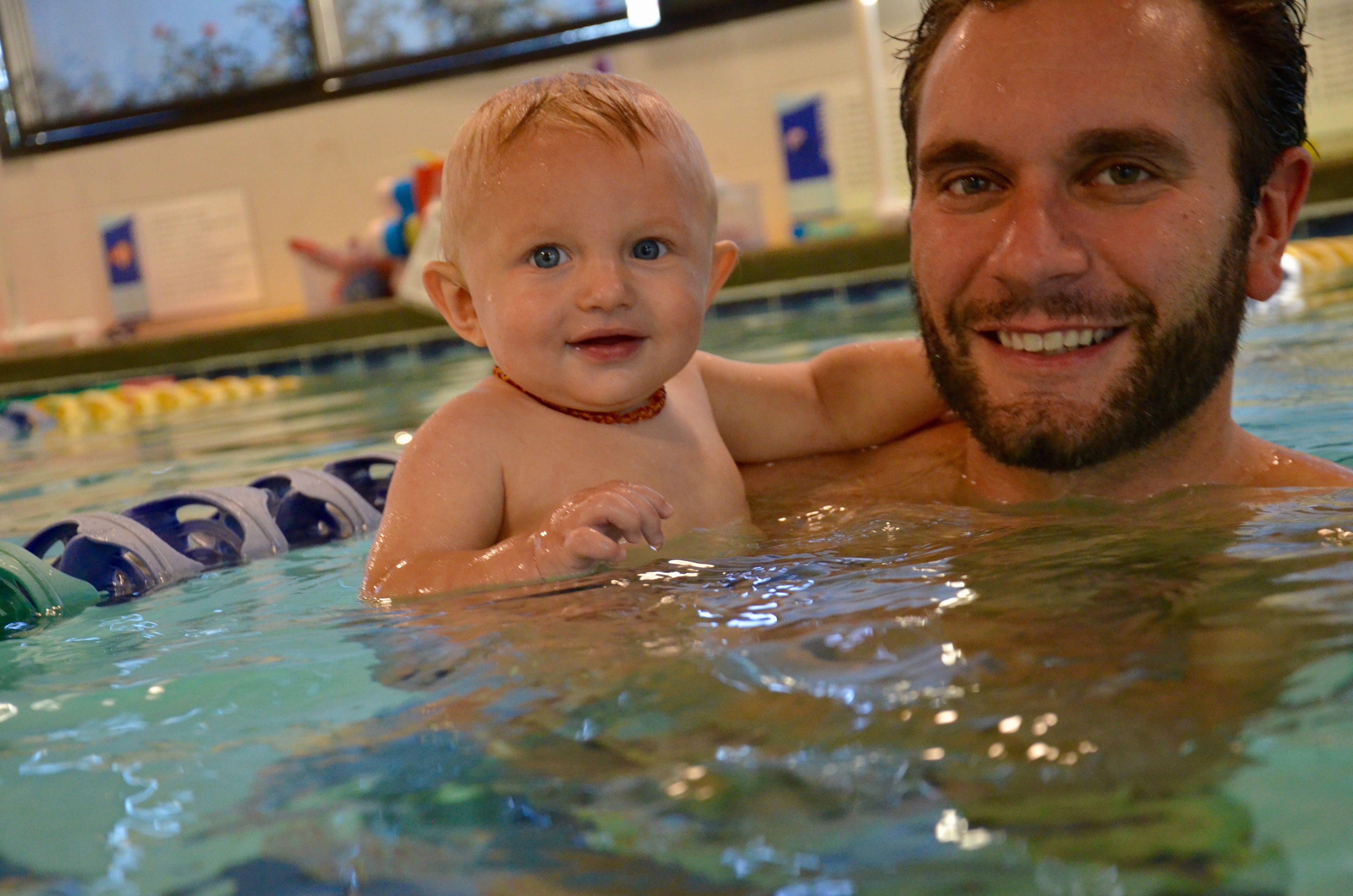 Sometimes we hear people refer to our infant swimming lessons as "mommy and me" classes - and they absolutely can be! Whether you work full-time, part-time, or stay at home, many moms enjoy spending quality bonding time in the pool during baby swim lessons. And we love to see that. But this "mommy and me" nickname only tells part of the story about our baby and me swim classes. Did you know that dads are welcome, and encouraged, to participate in them too? Here's a little more about why.
Forging a Bond
When an infant is in a new environment, like the pool, they often get a great feeling of calm and comfort from having a parent or caregiver there with them. After all, being held in the arms of someone familiar can make babies feel safe in an otherwise uncertain environment.
Because of this, real bonding can take place in the pool between parent and child. It can be really positive for a dad to be there with his baby in the pool, providing comfort, being playful, and helping his little one learn new things.
Trust and Security
There's a level of trust that comes with an infant's dependence on their caregivers. If dads miss out on some of the childcare responsibilities on a daily basis like giving baby a bath, feeding them, and taking them to activities, babies may not view them as someone who meets their needs (or at least less so than whoever does meet them regularly). Giving dads a chance to be in this role, even every once in a while, can help babies learn to trust them and understand they can provide security and meet their needs, too.
Not Just Moms and Dads, Either…
We see moms and dads a lot in our baby and me swim classes, but baby swimming with grandparents or other caregivers can be great too! It's ideal if your infant has one primary attendee with them in class, so they can learn class techniques and help little ones build upon skills learned in prior weeks. But, we still encourage you to feel free to swap in trusted adults as needed to fit your schedule - and give your baby a wonderful chance to bond with other loving friends or family members.
Contact us to learn more about our classes no matter what age your little ones are!