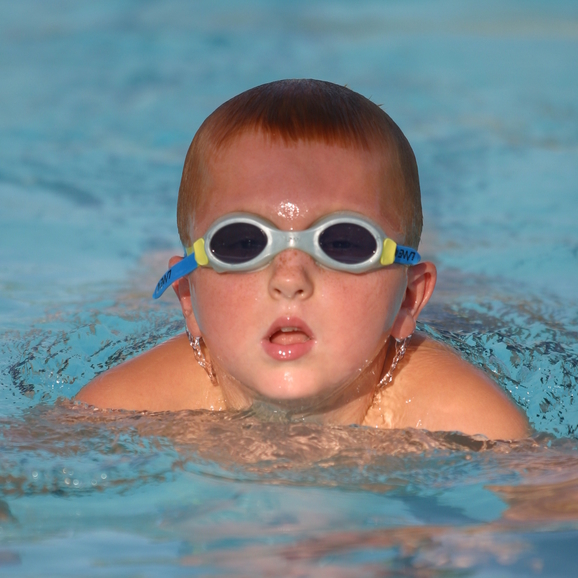 Summer is known for many things, like that oh-so-welcome break from school, soaring temperatures, enjoying cool treats and spending time at the pool or beach. But summer also brings the stormy, monsoon season – and this means thunderstorms and lightning. There are many myths about swimming safety in storms, and what happens when swimming and lightning mix. The National Lightning Safety Institute has a slogan, "If you can see it, flee it; if you can hear it, clear it." Here's an overview of some truths, so you can make smart, safe decisions for you and your family this summer.
Is there a difference in how lightning affects saltwater or freshwater?
There's a widely held belief that lightning doesn't affect all bodies of water the same, and this is largely true. Salty water is, in fact, a better conductor of electricity than freshwater. So, in theory, a lightning strike that hits the ocean in which you're swimming may be less dangerous to you than a lightning strike that hits a pool in which you're swimming. But either way, the water around you will be raised significantly and you could still experience burns and/or internal injuries.
So what's the takeaway? It's best not to swim in saltwater or freshwater when there's an active storm present. And the most important thing to remember is to never allow yourself to be the highest person or object in any given area. Even if you're standing on the shore, your likelihood of getting struck by lightning is increased greatly if you're taller than anything in your immediate surroundings.
What do you if you're in (or near) water and a storm rears its head?
Whether you're swimming in a pool or the ocean, lying on the beach, or playing at a water park, you're in danger if a storm kicks up. Your best course of action is to get indoors and wait to resume water-based activities until at least 30 minutes after you've heard the last clap of thunder. Even if the sky is blue and you can see the sun shining, lightning is still a hazard until you've waited through this period.
Can I still swim in an indoor pool if it's storming outside?
Depending on the entity at which you're swimming, an indoor pool may or may not be closed during summer thunderstorms. No death by lightning has ever been reported in an indoor pool and these bodies of water are generally believed to be safe in a storm (unless they're connected to an outdoor pool).
If you do exit the indoor pool during a storm, the danger is not over. Avoid taking a shower or talking on a landline telephone after, as these are two ways in which swimmers often can incur injuries due to lightning once they're out of the pool. The best bet is to dry yourself off, stay away from all water sources and landlines, and remain inside until the storm ends.
I own a pool, do you have any storm preparation tips?
There are a few tips for pool owners to keep in mind when storms are brewing.
Don't put the cover on your pool; this could put the cover at risk of damage and / or make it a flying hazard if the winds are extreme

Don't drain your pool; water tables can raise the earth during a storm. Keeping the pool full keeps it heavy and less apt to move

Do trim nearby trees and branches

Do clear away toys and furniture (like umbrellas)

The moral of the story is that swimming and lightning do not mix. Keep yourself and your family safe by staying indoors during a storm (or at the very least staying low to the ground and out of water if you're outside). Always better to be safe than sorry. Contact us if you'd like more information about our swim lessons or if you have any other questions. We're happy to help!