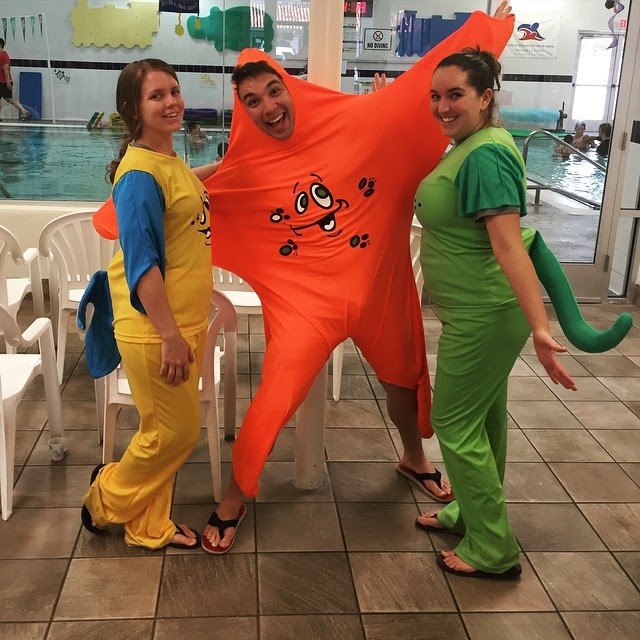 May 15th marks International Water Safety Day, part of National Water Safety Month, which is intended to raise global awareness for drowning prevention and water safety education. We like to take this time to help our swimmers and their parents learn safety tips in order to be safe around the water. Below are our top 10 safety tips that we think are most important when it comes to being safe around water:
Learn How to Swim as Early as Possible: The most important water safety rule of all is that everyone knows how to swim. Children should begin to learn water safety skills as early as possible, and at Hubbard, children can begin lessons as early as 8 weeks old in our infant swimming lessons program.

Supervise Children Closely at All Times: It may seem obvious, but we live in the era of multitasking and distraction. Being present at the pool isn't enough, kids need active supervision at all times, so put away your cell phone and any other distractions. Make sure that you can see your children when they are in the pool 100 % of the time. For social events, make sure that there are parents who are designated "water watchers" to ensure there is swimming supervision at all times.

Alarm the House: Install alarms on all doors and windows that exit to the pool. Having this extra precaution will decrease the risk of your little one venturing outside without you and leading themselves to the pool area.

Know Safety Procedures: In a worst-case scenario emergency, parents must know how to respond. Learn how to determine whether a swimmer is in distress, and if so, when and how to administer CPR. Call for emergency help immediately. Don't waste any time and continue to administer CPR until an ambulance arrives – every second counts. In addition, it is key to brief babysitters on any house rules, your children's level of proficiency in the water, and the need to watch them closely.

Install a Fence: As a general rule, every backyard pool should have a fence that is four feet or taller surrounding it, with self-closing or self-latching gates. Consider installing pool and gate alarms to alert you if your child goes near the water and you're not there.

Do Not Rely on Floatation Devices as a Substitute for Swimming Supervision: Remember that floaties are not life-saving devices, especially for young children. If a child is a weaker swimmer, consider having them wear a coast-guard approved life jacket in the water until they become stronger swimmers.

Do Not Leave Pool Toys in the Pool When You Leave the Pool: Leaving toys and objects inside the pool area puts your child at risk of being tempted to find their way into the pool to retrieve the toy. Avoid this by simply cleaning up the toys or bringing them outside the pool area.

Never Swim Alone: This rule applies to even the strongest swimmers. Accidents can happen, muscle spasms, head injuries, fatigue, etc. can put any swimmer at risk.

Look Before You Jump: Remind your kids to look before they jump into the pool and to always be aware of their surroundings. Head and neck injuries can happen to even the strongest of swimmers, one way we can avoid this is by paying attention to where we splash into the pool.

Follow the Pool Rules: The pool rules are meant to keep you safe and should be followed. Keep in mind that pool rules are not only meant for public pools, but your pool at home as well.
It's important to reiterate that drowning is silent, oftentimes there is no splashing to indicate a child is in trouble. Take the time to educate your family on proper water safety rules and make sure your child understands why these rules are important. At Hubbard, we will be taking the Safe Swimmer's Pledge, and encourage you and your family to do the same! If you would like to learn more about our swimming program, contact us today.