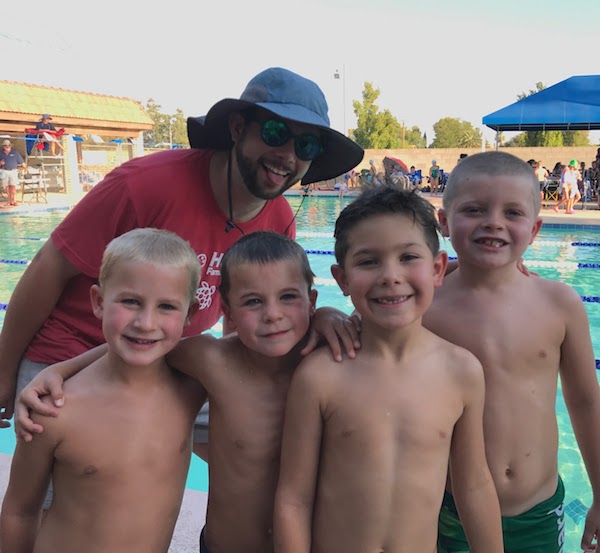 Summer is coming, it's hot, and the kids are begging you to take them to the pool every day. Hosting or attending a summer pool party is a fun and a popular summer trend, but they come with some concerns. It often feels like safety takes away from the fun, but it certainly doesn't have to! Here are 7 tips and ideas to keep your party safe for the whole crowd while maintaining a relaxed and fun atmosphere for parents and kids alike.
Sunscreen! It's obvious that sunscreen is a big concern during the summer months. Set up a table with an umbrella for shade and lay out some assorted waterproof sunscreens. Make sure to ask parents to apply sunscreen before they arrive with their kids, as it takes some time to sink in and take effect.

Hydration Station. Keeping everyone hydrated can be a struggle. When your kids are playing in the pool, the heat won't seem so bad and they won't know that they are perspiring. Provide a cooler with sports drinks (like Gatorade) and lots of water to keep everyone properly hydrated. Make healthy snacks available, and note that salty snacks will prompt the kids to drink more water.

Take Breaks. Implement break times for the kids to gather, hydrate, and re-apply sunscreen so that you can keep track of everyone and make sure they are taken care of. Provide some shaded areas for breaks with a pop-up tent or some big umbrellas.

Back Up Plans. Getting your CPR certification will keep you more calm and more in control should an emergency situation arise. Always keep a phone within reach for any emergency that may happen, and discuss emergency protocol with all other adults who are present.

Chaperones. Ask parents to accompany their children to the party and make sure at least one adult has their eye on the children in the pool at all times. You may even consider hiring a few local life-guards for extra support.

Games. To keep your pool party fun, offer some variation in activities. Gather some pool toys (diving rings, floaties, noodles, etc.) and keep them available for play. Races are also great fun in the pool. Try teaching the kiddos how to be mermaids with dolphin kicks (legs stay together) and see who is the fastest mermaid! Gather some more fun ideas for pool races here.

Check Pinterest or other DIY sites for pool party ideas and games that the kids can partake in outside of the water. Consider having a fun t-shirt making station where kids can have fun making their own matching t-shirts for the occasion! It is important to provide fun activities outside of the water or you'll never get them dry enough to reapply their sunscreen!

Having a fun pool party that's safe doesn't have to be tough. Use these tips and enjoy the party. If you'd like more information about our swimming lessons contact us today!