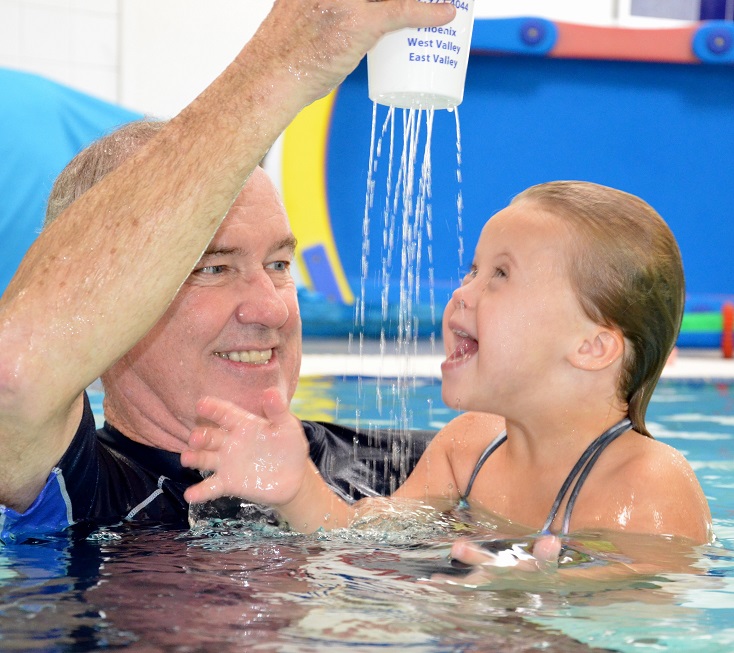 Learning to swim can play a huge role in your child's development. There are numerous benefits to why children should take swim lessons. A good swimming school will always emphasize the importance of parents swimming with their little ones.

So, why should you swim with your toddler? Here's why:

1.Swimming is a Confidence Builder. Even at such a young age, simple achievements and skills learned will help to build self-esteem in your kids. With every lesson there's something else to learn. When you build on what has already been taught, your little ones will certainly start feeling like they can do anything.

2.Water Awareness. Infants can safely begin swimming regimens. They learn at just a few months old that overcoming fear of water is a learned skill. Children naturally love water, and teaching them to respect it, and learn how to swim in it, will give them lessons they can hold onto for a lifetime. Swimming skill retention never fades; it's just like riding a bicycle.

3.Be Healthy and Stay That Way. Swimming is one of the best forms of exercise. Of course, to many kids it seems more like playtime than work, and as children grow, they can take their swimming skills everywhere they go. It's great to feel in shape and you can do that when you know how to swim.

4.Social Skills. When you swim with your toddler, this is one of the best bonding experiences you can establish with your child. With toddlers swimming along with you, it's just the two of you. No outside distractions and quality one-on-one time that your kids will crave.

5.Brain Development. When learning to swim with your toddler, you can put to use toddler learning games that go a long way to stimulating their senses and help with word association. Using something so simple as swim lessons you are assuring that your youngster is gaining so much through being independent and growing in increased awareness.

6.Creating Memories to Last a Lifetime. Lastly, when you swim with your toddler you'll be creating one of the most memorable experiences they will ever have. Children grow up so quickly and things can change practically overnight. You want to make memories ? lasting, fulfilling happy memories that you both will remember forever. Swimming together can do that for you.