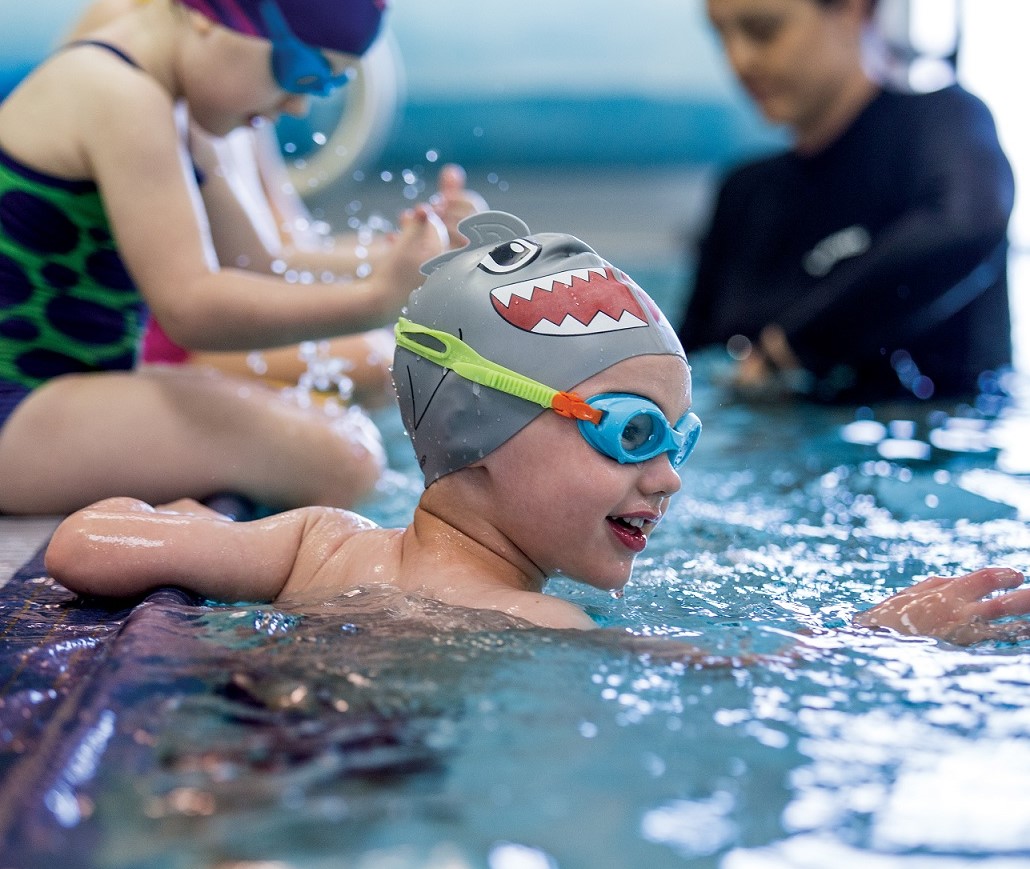 When it comes to positive activities for children, swim lessons may not immediately come to mind, but there are a lot of awesome benefits swimming affords! The positive impact pool time can have on a child's mental and physical well-being is pretty incredible. It's why we're big believers in helping more kids become swimmers, and why we offer classes designed to teach them the basic swim skills they need.
Not a believer yet? We've seen how swim lessons help a child's personality development. Here are some of the ways swimming can aid a child develop both physically and mentally.
Swim Lessons Offer Mental Benefits
There's a reason so many people start their day with a few laps at the pool. Swimming is a fantastic workout, and that's true whether the person swimming is an adult or a child. Some time in the pool every few days can provide great exercise for children and help them feel like they've accomplished something for the day. It can also help relieve stress. Children can work out some of their stress and frustration by exerting themselves in the pool. And if they happen to be playing a game or taking part in some other fun, pool-related activity, the enjoyment they're getting in the water can help them push out some of those negative thoughts.
Swim Lessons Are an Opportunity to Build Social Skills
Depending on when your child visits the pool, there may be some other children there splashing around in the water, perhaps playing games like pool volleyball or marco polo. Swimming can provide your child with an opportunity to become more comfortable around other kids and help with their personality development. There's an added benefit, too. While your child is swimming around, interacting with other children, they may further develop their swim skills without even realizing it.
Swim Lessons Can Help Children With Anxiety
It's worth noting that swim lessons aren't a prescription for anxiety. They won't suddenly cure a child suffering from this condition, but they can help the child better manage it. If a child is anxious about getting into the water, afraid to get near it, and fearful of what could happen if they do, swim lessons can help a child confront that fear. It's important to let kids with anxiety work their way up to getting in the pool themselves, with parents and instructors offering positive reinforcement and teaching by example. When a child finally takes their first steps into the water and begins to learn basic swim techniques, they can build confidence in their abilities and a trust in themselves to be safe around water.
Swim Lessons Can Provide Positive Experiences for Children with Special Needs
Kids with developmental or intellectual disabilities may not get as much exposure to swimming as other children do. That's why swim lessons can be a great way to introduce them to the experience. Those who otherwise pass on many activities can reap the physical benefits of swimming by further developing their motor skills, increasing their strength, and improving their coordination during their time in the pool. Swimming can also help kids with special needs build their self esteem and feel a sense of self worth after some fun in the water. The more time they spend in and around the pool, the more equipped they'll be to keep themselves safe around water, too.
If you'd like to learn more about the benefits of swimming, contact us. You can also sign your child up for one of our upcoming swim lessons today!